Next Issue

: Jun 5, 2008

Marinades & Rubs
Strawberries & Smoothies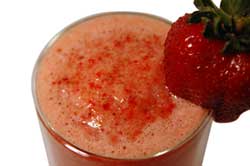 This time of year is one of those perfect moments of anticipation - the entirety of summer, and all its pleasures, lies visibly ahead. How appropriate, that fresh strawberries appear in these late spring days, ready to usher us into the pleasant warmth of summer. Red, ripe strawberries promise a season bursting with flavor and style. In this issue, we'll offer many tips for enjoying strawberries, including some smoothie know-how that will serve you well all summer long. Break out the berry bowls and blenders! Begin the summer celebration!
Bridal Registry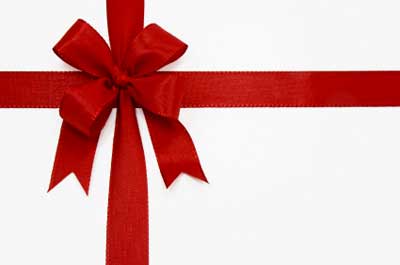 Join us in celebrating the engagements and pending nuptials for the following couples currently registered at Cook's Emporium:
May 24, 2008 - Inger Osterberg & Tony Marsh
May 31, 2008 - Kristin White & Jason Sjulin
Jun 7, 2008 - LeeAnna Olson & Michael Vickery
Jun 14, 2008 - Ellen Tait & Igor Alarcon
Jun 28, 2008 - Amy Larson & James Hawcott
Jul 4, 2008 - Amy Swanson & Patrick Finn
Jul 5, 2008 - Naomi Slutski & Brandon Whalen
Jul 13, 2008 - Ashley Petersen & Steven Hill
Jul 19, 2008 - Betsy Hertz & Luke Wenz
Aug 2, 2008 - Katie Kearney & Paul Porter
Aug 8, 2008 - Holly Reisetter & Jeremy Eide
Aug 9, 2008 - Carolyn Wilson & John Cook
Aug 9, 2008 - Alaina Meyer & Erik Christian
Sep 6, 2008 - Natalie Cornwell & Andy Craig
Oct 11, 2008 - Emily Blaedel & Nick Johnson

Access our Gift Registry on our website!
www.cooksemporiumltd.com

New -
JUST IN!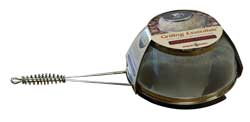 Ready to spend some time outdoors and enjoy a time-honored tradtion? Check out the open fire Popcorn Poppers that have just arrived! The metal base heats quickly and the long handle is perfect for holding over a campfire or grill. The top wire mesh lid catches the newly popped kernels, then doubles as a serving dish when the popper is turned over. We think you'll enjoy injecting some old-fashioned fun with this new backyard tool!
Events at Cook's Emporium

Join us in our kitchen on Saturdays for cooking demonstrations that inform and inspire! The presentations begin promptly at 10:00am. $5 class fee; no reservations required.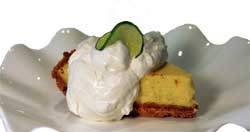 Saturday, May 31 -

Lemon Pie and Coconut Cream

- Instructor: Margaret Welder. Margaret's Lemon Pie is a tangy, sweet-tart refreshment. Learn the secrets to preparing these two favorites. Margaret has had many requests to share her knowledge and these traditional pies.

Saturday, June 7 -

Iles Flottantes ("Floating Islands")

-

Instructor

: Beatriz Spalding. Puffy clouds of softly poached meringue floating on a vanilla custard sauce may look ethereal on the plate, but this is really a homey French farmhouse dessert. It was probably devised to make ingenious use of fresh farm eggs and milk, plus a little sugar.



Summer Break Time

- Thank you for participating in our Saturday Cooking Demonstrations this past season! We've had a fantastic year of exploration. Thanks, too, to our talented team of presenters who have brought their expertise and energy into our kitchen. We'll resume our regular Saturday fun in the fall with an exciting agenda of topics.



Our demonstration schedule is also available on our website at the

Classes and Events

tab.
Red, Ripe Strawberries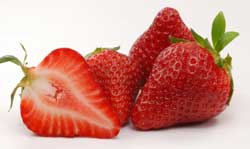 Red, ripe strawberries entice our eyes with their true red color. Then, our noses recognize the perfumy aroma. And finally, our palates dance with their tangy sweetness. Strawberries are unique among fruits; they wear their seeds on the outside, all 200+ per strawberry! With their heart shape and red color, strawberries have represented Venus, the Goddess of Love, as well as having served as a longtime symbol of perfection and righteousness. Not surprisingly, it's a rare person who doesn't love strawberries!

Choosing Strawberries: When choosing strawberries at the market look for:
(1) Full red color, without white areas. Strawberries will not ripen further once picked.
(2) Fresh green leaves on the cap; no wilting or dried, brown leaves.
(3) Prominent fragrance of the "strawberry perfume."
(4) Lack of fuzzy mold. One moldy berry will send spores throughout the rest in the container. If purchasing strawberries in a clamshell container, turn it over for a view of the bottom and sides.
(5) Finally, a quart of strawberries approximates 1.5 pounds of strawberries, or 4 cups of sliced strawberries.

Storing Strawberries: The key to storing strawberries is brevity! Once picked, like all produce, strawberries begin to deteriorate. Plan to use strawberries as soon as possible after purchase, and if that is not possible, refrigerate.

Picking Strawberries: Freshly picked strawberries are a different creature than the red fruits on produce shelves in December.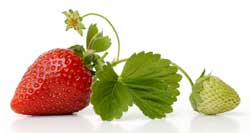 Fortunately, strawberries grow in all 50 states, though commercial production is centered in California, Florida and Oregon. Many strawberries have been bred for shipping durability and not necessarily taste. If you'd like to take advantage of locally produced strawberries, here are a few "U-Pick/Pre-Pick" locations to check out. Call ahead to ensure availability and arrangements.

The Berry Patch - Nevada, IA - (877)382-5138
Pumpkinville at Mitchellville & Corn Maze - Mitchellville, IA (515) 967-0972
Heritage Farm - Hudson, IA - (319) 988-3734
Lincolnway Flower Farm - Lowden, IA - (563) 941-5417
Furleigh Farms - Clear Lake, IA - (641) 357-4097
Rawson's Berries - West Union, IA - (563-422-3716
Small's Fruit Farm - Mondamin, IA - (712) 646-2723
Gettings Gardens - Sanborn, IA - (712) 729-3776

Other Iowa locations are noted at PickYourOwn.org.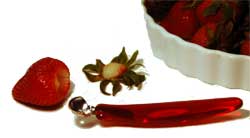 Prepping Strawberries: Wash strawberries just before using. Rinse, immediately drain the strawberries, and pat dry. Strawberries act like sponges; avoid letting water stand on or around the berries. Leave the green leaves, (sepals), on the strawberries while washing. Keeping the hulls on the strawberries prevents water from gathering inside the center cavity of the strawberries. Removing the leaves and the small white core they attach to is known as "hulling the strawberry." Strawberry hullers are nifty gadgets that make quick work of the task.
Quick Strawberry Serving Ideas

We think strawberries served simply are a great way to savor the essence of the season. Each of these preparations is quick and easy to assemble for a snack, appetizer, or dessert. The redness of the strawberries dominates the presentation while the "seasonal perfume" and juice sweetens each bite.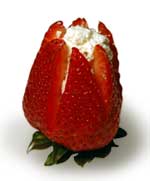 Strawberries with Peppered Goat Cheese Stuffing - Make two slits in the tip of the strawberry, pipe softened peppered goat cheese in the center. Leave the green leaves on the strawberry for an easy handle.
Strawberries with Lemon and Honey - Dress hulled, sliced strawberries with a light dressing of equal parts honey and fresh lemon juice. Drizzle on the berries and toss.
Strawberries Dipped in Chocolate - Always a dazzling treat! Dip washed, dried strawberries in melted chocolate. Two teaspoons of shortening melted in 6 ounces of chocolate will help the chocolate to stay hardened in summer heat.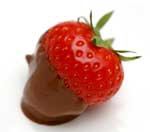 Chill the strawberries well before washing and dipping.
Strawberries and Walnuts on a Spinach Salad - Strawberries add sparkle to dark greens and accept all types of salad dressings with ease. Toasted walnuts and sliced strawberries on a bed of spinach is hard to beat.
Strawberries with Yogurt Dip - Make this healthy snack with plain, lowfat yogurt sweetened with honey or brown sugar, and a splash of vanilla. Leave the green caps on the strawberries as a convenient handle for dipping.
Strawberries with Balsamic Vinegar - The syrupy tang of your best balsamic vinegar pairs well with gently sweetened strawberries and a mint garnish.
Strawberries with Rhubarb - This old-fashioned pair is still a spring favorite. Cook 2 cups quartered strawberries and 2 cups diced rhubarb with 1/2 cup sugar and 1 cup of water on low heat until saucy. Adjust sweetness to taste.
Smooooothies!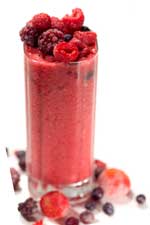 Cold beverages in summertime are a survival must. A great alternative to common sodas are drinks made with fresh, natural fruits, widely known as smoothies. Once summer has arrived, the blender, or "smoothie maker," is a permanent fixture on our countertops. A smoothie can take on a variety of characteristics, but all are cold and made with fresh fruits and/or vegetables.

Milk-based Smoothies - All types of milk are suitable for smoothies: cow's milk, goat's milk, soy milk, coconut milk, etc.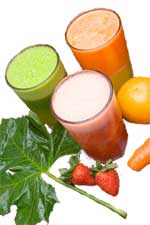 Blend 1 cup of your milk choice with 1 cup of your fruit choice, and sweeten to taste. These smoothies are healthy, quick and refreshing!

Ice-based Smoothies - For a low-calorie drink, and none of the chemicals of commercial "slushies," an ice-based smoothie is fantastic. Simply blend equal parts ice and fruit, and sweeten to taste. Use ice cubes of a smaller size to achieve an even consistency in the ice. Many silicone ice cube trays offer a smaller cube size and easy handling.

Combo Smoothies - Concoct a combination smoothie by using half milk, half ice along with your fruit choice.

More Smoothie Tips:
If your smoothie contains ice cream, it's no longer a

smoothie, but is now a milkshake.
Save a piece of the fruit prior to blending for garnishing.

Check out the Strawberry Smoothie drinks below in the Recipe section.
Blender Basics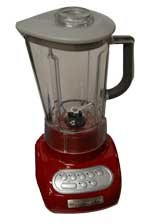 Blenders are indispensable equipment in the summertime kitchen! Their powerful blades handle chunky fruits, vegetables, and even hard ice cubes. They can do rough chopping work, or puree foods to a smooth consistency. At higher speeds the blender's action incorporates air into the blended product, a much desired characteristic for certain preparations.

The most often asked question about blenders is, "If I have a food processor, why do I need a blender?" The two machines overlap in some respects, but really serve two different purposes in the kitchen. Both blenders and food processors chop and puree food, but in different ways. Blenders typically have four blade wings positioned optimally for creating a whirlpool effect that brings food down into the vortex, and then sends it upwards. Blenders generally require liquid in the bottom of container to facilitate the swirling motion. Food processors do not require liquid. Blender blades are tough without a sharp edge. The blades act by impacting foods with force, (like a common coffee grinder), not by cutting the food as with a food processor. Unlike the fine cutting blades of a food processor, blender blades are tough enough to crush ice.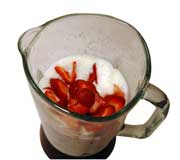 Considerations when Choosing a Blender - When choosing a blender, match your expected use with the options available. Here are just a few considerations:

Sturdy Base - The action of the blender can "inspire" a machine to move across the countertop. Choose a blender with a sturdy, heavy base and "grippy" non-scratch feet.

Container Type - Blender containers are typically made of glass, plastic, or stainless steel. Each material offers its own advantage. Glass containers offer visual access, tend not to scratch, and may be chilled prior to use. Plastic provides a lighter weight container and a visual view to the processing, though may scratch more easily. Stainless steel containers are super-sturdy and may also be chilled to great effect prior to blending.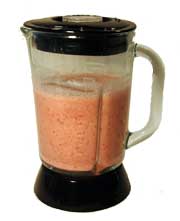 Power - The power of a blender is expressed in "watts;" the higher the wattage, the greater the power. If the expected use is always at full speed for longer periods of time, a higher wattage blender may be in order.

Clean-ability - Often the key to making good use of a kitchen appliance is its ease of cleaning. Examine the blenders assembly to see if it clears the "easy" hurdle.

Featured Blender
- We feature

Kitchen Aidô

blenders here at Cook's Emporium. You'll find that they live up to their reputation of high performance in the home kitchen.
Smart Cooking Tips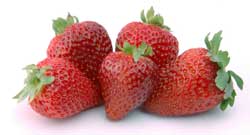 Tip #1: Take advantage of the local peak strawberry season by freezing as many as you have room for. Wash, drain and pat dry just-picked strawberries. Once hulled, place on a jelly roll pan in a single layer and freeze the strawberries. After solidly frozen, package in a freezer-quality zipper bag. Use at will, but save a few for a cold day in November so that you can reminisce about the summer past.

Tip #2: Stock a variety of frozen fruits, (purchased or picked), for super-quick smoothie action now or anytime of year.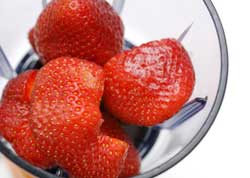 The frozen fruit serves the dual purpose of providing both the fruit ingredient and the ice component.

Tip #3: Teach family members to always be safe when operating a blender: (1) Position the blender securely away from the edge of the countertop, (2) Always position the cover snuggly positioned on top of the container before powering on, (3) Never insert a utensil inside the blender container while the blades are moving.
Q & A
Q: What is a berry bowl?
A: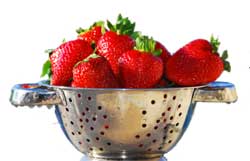 As discussed above, strawberries will quickly absorb any water that they contact, resulting in mushy berries. A berry bowl is a small bowl with drain holes in the bottom. Often a berry bowl is matched with a saucer and served as one. Berry bowls are perfect for leisurely plucking and full berry enjoyment.

Q: What does it mean to "macerate" berries?
A: Macerating berries or any fresh fruit occurs when sugar is sprinkled on the fruit or the fruit is soaked in a sweet liqueur. The sugar (granulated or in the liqueur) changes the fluid balance of the water inside the moisture-rich cells of the fruit. The sugar coaxes the water out of the cells through an osmosis process creating a rich syrup surrounding wilted, flavor-rich fruits.

Q: The ingredients in the blender get stuck above the blade and don't get mixed in. What's wrong?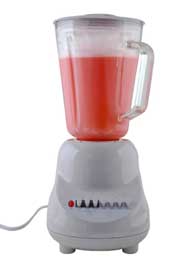 A: A blender works by drawing down the ingredients into the blades, then forcing them upwards and around in a mini-whirlpool motion. If the ingredients are too dry, or too chunky, this movement is impeded and an air pocket forms around the blade mechanism. To avoid this, load the blender with the liquid components first. If the situation persists, add some additional liquid to the mixture.

Q: Can I use my food processor to make smoothies?
A: Certainly, but only smoothies that do not contain ice. Never use your food processor to crush ice, always use a blender, or machines specifically made for crushing ice. Blender blades crush ice by impact force at high speeds. Food processor blades have a fine cutting edge that will be damaged immediately when it attempts to "cut" the ice.
Cookbook Review

The Ultimate Smoothie Book, 130 Delicious Recipes for Blender Drinks, Frozen Desserts, Shakes, and More! by Cherie Calbom. Copyright 2006 by Wellness Central an imprint of The Hachette Book Group, New York, NY.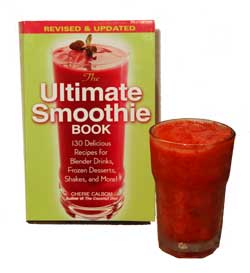 If your idea of a smoothie is limited to one or two concoctions, this book will lift you out of your rut into some daring territory! As the title suggests, Ms. Calbom provides recipes for all type of blender drinks. Each recipe is accompanied by a calorie count and nutritional analysis. In addition to the recipes, detailed information on smoothie components and "add-ins" is offered. The book's perspective is clearly from a nutritional angle, but you don't have to be a health food nut in order to benefit from the great ideas and tips. You'll gain the confidence to experiment with different kinds of milk including coconut milk, rice milk, and "almond milk." You'll even expand your smoothie repertoire to include some veggies. There are 130 recipes, enough to try a different one each day this summer!
Strawberry Recipes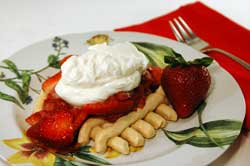 Strawberry Topped Meringues

This luxurious dessert is the perfect showcase for the peak of the strawberry crop. The burst of berry flavor with the crunch of the meringue, make for a sweet ending. The meringue base is a lighter alternative than a shortcake biscuit, and may be prepared ahead of time. The assembly is accomplished quickly while the dinner dishes are being cleared from the table. Your favorite vanilla ice cream would easily fit in as one of the lovely layers!

Click here to view the full recipe.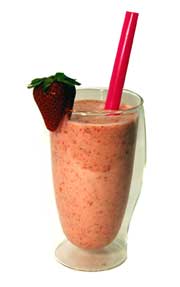 Click here for a printable version of the recipe.

Strawberry Drinks

Unlike commercial concoctions that may have unknown sweeteners and components, a homemade smoothie tastes real because it is real! Smoothies provide the perfect opportunity to improvise and experiment. You'll discover your favorite mixes of ingredients along the way. Begin the summer enjoying Strawberry Smoothies, then, follow the season's harvests. Midsummer will bring cherries, peaches, apricots, followed by late raspberries, blueberries, then grapes and apples. The freshness of fruit, the protein strength of the milk, and the icy coolness make for a perfect summertime pleasure.


Click here to view the full recipe.


Click here for a printable version of the recipe.