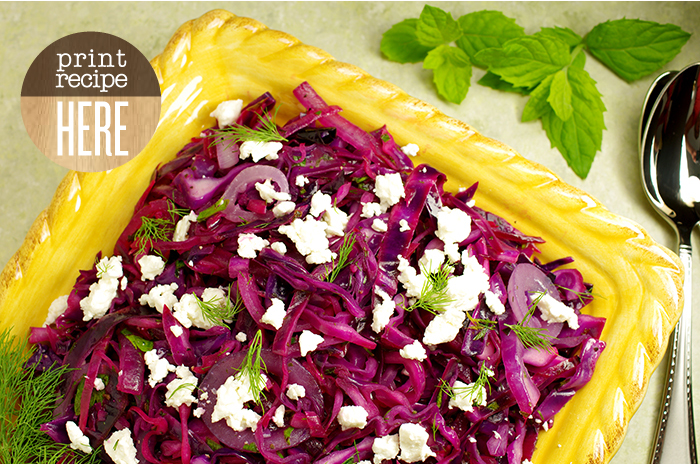 Wilted Red Cabbage with
Mint and Goat Feta
For 2 to 4

2 tablespoons olive oil
1 medium red onion, quartered through the stem end and thinly sliced crosswise
1 garlic clove, finely minced
4 cups packed very finely sliced red cabbage (a scant pound)
Sea salt
Juice of 1 lemon
2 tablespoons chopped mint
2 tablespoons chopped dill
2 tablespoons finely chopped parsley
Freshly ground pepper
Crumbled goat feta plus whole mint leaves, to finish

Heat the oil in a large skillet or wok. When hot, add the onion, turn to coat it with the oil, and cook for a minute to sear and soften. Add the garlic, then the cabbage, and season with 1 teaspoon salt. Immediately begin turning it in the pan to wilt it evenly. You don't want to fully cook it, just wilt it; two minutes should be enough time. Remove the pan from the heat, toss the cabbage with 2 tablespoons of the lemon juice, then taste and add more if sharpness is desired. Toss with the herbs. Season with more salt, if needed, and plenty of pepper. Transfer the cabbage to a platter, mounding it in a heap, then shower with the crumbled goat feta. Finish with the extra mint leaves and serve.