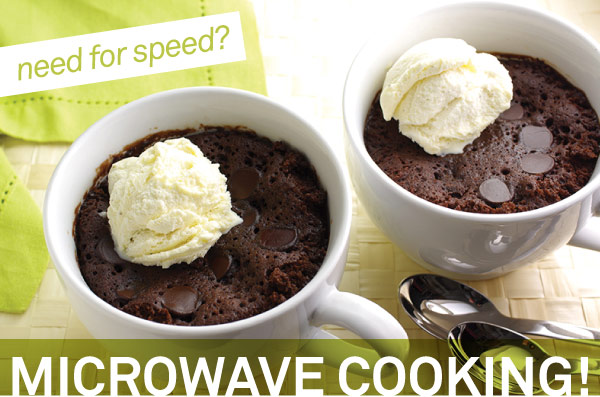 Is your use of the microwave oven limited to warming coffee or heating frozen meal trays?

IN THIS ISSUE

, we're unleashing the power of this modern-day appliance by first understanding how a microwave oven works, offering key tips for making the most of it, and making three recipes that teach the techniques. Read on!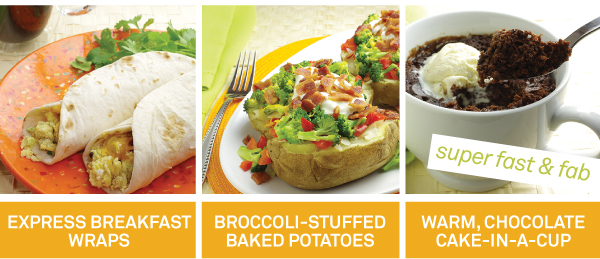 The daffodils are beginning to make an appearance, followed soon by tulips and a tinge of green on the grass. All are such welcome signs of life after winter!

EARTH DAY

is celebrated in April and at

ACORN FARM

we're continuing our

CLEAN & GREEN MONTH

by featuring products that are kind to the environment or good for your health. In keeping with that theme, two of our favorite companies are offering promotional pricing on their products:

E-CLOTH


During the month of April, every E-Cloth item we carry will be sold at 20% off. This is a wonderful time to stock up on their cleaning cloths for everything from stovetops and counters, to bathrooms, floors, windows and stainless steel. Their mop is absolutely the best mop we've ever tried. Each of these products cleans without any chemicals. A little hot water and you're ready to go! Come in and have a look!

VITAMIX


They're offering $50 OFF on all the VitaMix machines we carry! What better time to bring one home. There's no limit to the amount of things you can make in the VitaMix. Our staff LOVES this product and we've used it for soups, smoothies, nut butters, salad dressing, chopping, and pureeing and so much more. Stop in - we'll be glad to show you what it can do!

NEW SPRING ARRIVALS


We've got an assortment of great items in the store that are new for spring, one of them being the

TERVIS TUMBLER

. Using a double-walled

TERVIS TUMBLER

keeps your beverage cold and also eliminates the need for disposable water bottles. Putting less in the landfill is a bonus for EVERYONE! This is just the tip of the iceberg. We'd be glad to introduce you to some of our other new, spring favorites in the store.

THE CUTTING EDGE

Saturday, April 16
9:30am - 11:00am - $35 -

Two spots left!

with Ed Bartush

The one thing we all use in our kitchens every single day is a knife. With something that we use so much, it would be a shame not to use it as efficiently and expertly as possible. Sometimes it helps to have a little bit of instruction. Ed Bartush is our Wusthof representative, and he's a wonderful teacher, ready to show you the proper way to use your most common knives, how to hold them, care for them, sharpen them, and answer your questions. The class is hands-on, and each person will be slicing, dicing, and chopping right along with Ed. It's a lot of fun so sign up! Your fingertips will thank you. Each participant will leave with an Epicurean cutting board valued at over $20! Hurray! Class starts at 9:30am sharp. Very punny.

LOOK SHARP! A Knife Sharpening AND WUSTHOF Trunk Show!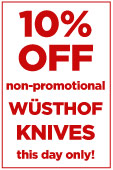 Saturday, April 16 from 12:00n - 3:00pm -

FREE!
with Ed Bartush
We'll be changing things up a bit this time! Ed is going to be doing a trunk show all day, featuring loads of great cutting tools from Wusthof, great specials, and a few unusual knives and saws. This is definitely an event worth attending. Of course, Ed will also be happily sharpening your knives for FREE! You may bring up to 3 knives, (no serrated, please), and he'll get them in tip-top shape for you. The sharpening is FREE, and we will have a donation jar for Community Sharing if you feel so moved!


LADIES NIGHT OUT!

Thursday, April 21

Ladies Night Out is a big favorite in Milford, and it only happens twice each year! This spring we'll be exploring an Earth Day/Green Theme with some wonderful products to go along with that topic. We'll be serving some of our favorite treats that we carry in the store, and highlighting some of the products that we're proud to carry because they reduce waste or are healthier for you and the planet! We hope you'll be a part of the fun!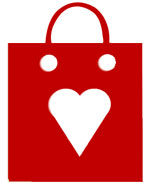 RED BAG DAY
Saturday, April 30 - ALL DAY!

April 30th will be our second Red Bag Day of 2016.
RED BAGS
are given to our Kitchen Cash members after they've filled their first Kitchen Cash Card. Whenever there are five Saturdays in a month, you're invited to come in on the fifth Saturday and bring your
RED BAG
to get
20% off most things in the store
. If you're already a Kitchen Cash Club Member, we really want you to have a Red Bag, so visit the store and we'll upgrade you. Not a member? Come and sign up! It's completely free! Fill out a Kitchen Cash Club Card; it stays in the store so you don't have to remember to bring it with you each time. Every time you make a purchase, we record it on your card. Once you've made purchases on six visits, we total the dollar amounts, take 10% of your total, and return it to you as a gift card to use on absolutely anything you want in the store! What's the catch? There isn't one!
Happy Cooking!
Kathy Magaluk and all of us at Acorn Farm