APPLE MACHINES and INDUCTION BURNERS

Harper's Point - Sat, November 19 - 11am - 2pm
Settlers' Walk - Sat, December 17 - 12pm - 3pm
Peel, core, and slice your way through a basket of apples in a fraction of the time with an all-in-one apple machine! Home-made applesauce anyone? We'll make some on our always cool-to-the-touch induction burner. Its infinite heat settings can heat in a hurry or gently simmer so efficiently - all the energy goes into the cooking process. See it in action!



POPCORN, POPCORN MAKERS, SEASONINGS

Harper's Point - Sat, November 26 - 11am - 2pm
Settlers' Walk - Sat, November 26 - 12pm - 3pm
Enjoy popcorn fresh out of our new lines of popcorn makers, and try some of our new savory and sweet popcorn seasonings, too. Yum!



CUISINART STAND MIXERS

Harper's Point - Sat, December 3 - 11am - 2pm
Settlers' Walk - Sat, December 10 - 12pm - 3pm
This is not your mother's mixer! Come see the Cuisinart Stand Mixer in action. It's power easily handles heavy doughs, and the count-down timer is priceless! Enjoy a cookie or two while you're here!



WAFFLE MAKERS, SYRUPS, WAFFLE MIX

Harper' s Point - Sat, December 10 - 11am - 2pm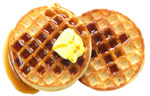 We're using Stonewall Waffle Mix and Syrups to show off our favorite waffle makers today. With quick heating, instant recovery, and browning controls these waffle makers make you look like a pro!



THE GRIDDLER

Settlers' Walk - Sat, December 3 - 12pm - 3pm
Harper's Point - Sat, December 17 - 11am - 2pm
Perfect for panini or quesadillas, for grilling or as a full griddle. The Griddler was well-designed for versatility. Let us show you how it works! An awesome gift!

Cooking Classes at Cooks'Wares
We've had a great time hosting you in our kitchens this autumn! There's been a lot of inspiration, learning and plenty of laughter. Thank you to our capable team of instructors that have shared their wisdom and their wit. We're looking forward to classes resuming in January with a whole new catalog of opportunities. Meanwhile, join us on Saturdays for some mini-sessions that you're sure to benefit from.
REMEMBER:
Cooking Classes at Cooks'Wares make great gifts for the holidays -- the gift of experience!
Cooks'Wares offers a
10% Discount

on your merchandise
purchases
on the day you attend class!

(excluding kitchen electrics and during Storewide Sales)