Quick & Easy Thai, 70 Everyday Recipes by Nancie McDermott. Photographs by Alison Miksch. Copyright © 2004. Published by Chronicle Books, San Francisco, CA.
Book currently in stock at Cooks'Wares!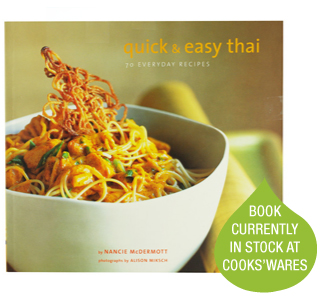 This cookbook is the perfect introduction to Thai cooking for the novice and contains plenty of inspiration for your skills as they grow. Many ethnic cuisine cookbooks quickly become confusing and daunting to the Western cook. This is not the case here. Ms. McDermott gained her training in Thai cooking first-hand as a Peace Corp volunteer in Thailand. In this, her second Thai cookbook, the recipes are intended for everyday use. The presentation simplifies the dishes, but without compromise. The book is organized by Appetizers, Soups, Curries, Chicken, Meats, Seafood, Rice & Noodles, Vegetables, Sweets & Drinks. We are further enabled with a section on Menus for Thai meals, tools for cooking Thai, various preparation techniques, and setting up a Thai pantry. The directions were instructive and led us to first time success with each of the recipes we tried. We can't wait to try more!