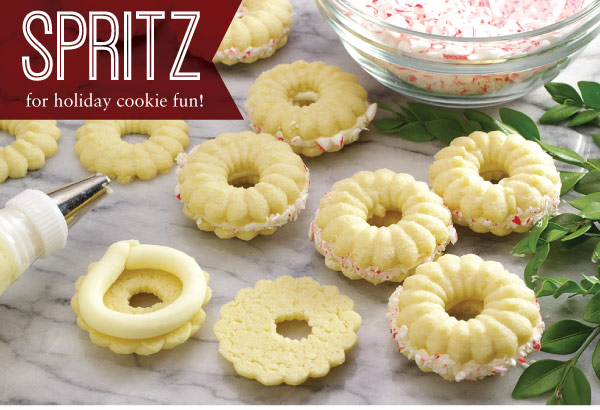 We're thinking ahead and getting our holiday baking plans ready! This year we're including lots of spritz on our baking list. These petite, buttery cookies take on many forms and flavors - perfect for holiday plates.


IN THIS ISSUE, you'll learn how to make spritz along with the all the tips and techniques that you'll need to be successful in pressing dozens of holiday cookies. They're fast to make, delicious to eat, and great to share!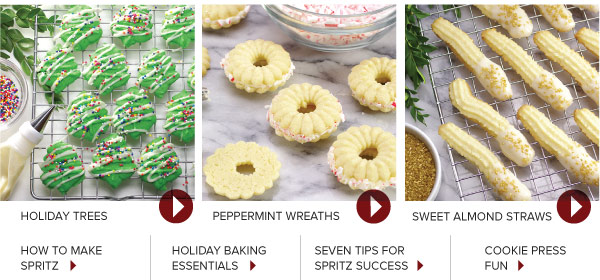 We have a great line-up of classes planned for the season ahead. It's a great way to spend an evening or day! We look forward to having you in our kitchen soon! Cooking classes make a great date night too! Get all of the details on our website's Cooking Class page or Click the Class Titles below.




REMEMBER: Gift Cards may be used for Cooking Classes!

===============================================

NOVEMBER 2016

===============================================

Thursday, November 17, 2016
Holiday Rolls


There is nothing better than hot homemade rolls that turn out. Come learn from our Grain Specialist,

Joy Ercanbrack

, as she teaches how to make melt-in-your-mouth delicious rolls to go with your holiday dinner and then top off the Thanksgiving feast with a beautiful Cake Roll. See the menu below for a complete list of things taught.

Saturday, November 19, 2016Buche de Noel

Looking for a different holiday dessert this season? Come see what Kanako Arnold, former Crumb Brother's pastry chef is cooking up! Kanako will be demonstrating how to make a beautiful Buche de Noel, or more commanly known as a Yule Log. This is a traditional dessert served at Christmas time, especially in France. Try something new this season!

Saturday, November 19, 2016Fabulous French Bread Hands-On

Learn how to make classic French bread in a basic home kitchen which not only looks professional but tastes authentic. You will have the chance to roll-up your sleeves and make your own french bread right along with Joshua Done. The baking techniques of using a straight dough, levain, poolish, pate, fermentee, as well as a combination of methods will be covered. Both hand kneading basics and using a machine will be taught. You will also learn about 14 classic shapes which can be made using any of the formulas. There is plenty for someone who wants to learn how to make bread for the first time as well as the advanced baker.

DECEMBER DEMONSTRATIONS


During the month of December our store will be holding a lot of great demos. Make sure to stop by Love to Cook to get some fabulous gift ideas and taste some yummy food! Happy Holidays!
All the Staff at
Love to Cook!
1211 N. Main Street
Logan, UT 84341
435-752-9220