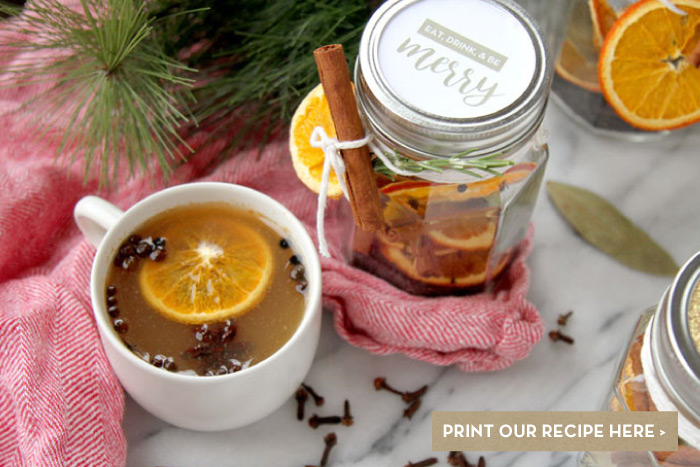 Mulled Cider Kits
Enough for 3 lucky friends


Good in both wine and cider, these aromatic kits are filled with only the warmest of spices along with freshly dried orange slices. Beautiful and festive, these kits will warm the hearts and homes of friends and family this holiday season!

Ingredients:
2 oranges, thinly sliced and baked until dried
6 whole star anise
1 tablespoon whole cloves
1 tablespoon allspice berries
1 tablespoon black peppercorns
3 tablespoons loose black tea
6 bay leaves
9 cinnamon sticks

Directions:
1. Slice the oranges into thin 1/8" slices; spread in a single layer on a baking sheet. Bake on low heat (225 degrees F) for about 2 - 2-1/2 hours until the slices become dehydrated and fully dried out.

2. Add the whole spices and dried orange slices evenly to individual glass jars.

3. Add lids, decorate jars, and gift!

4. Include the instructions to: "Add jar of spices to 1/2 gallon of fresh pressed apple cider, (or 2 bottles of red wine), and simmer on low for about for 45 minutes until infused with the warm flavors."