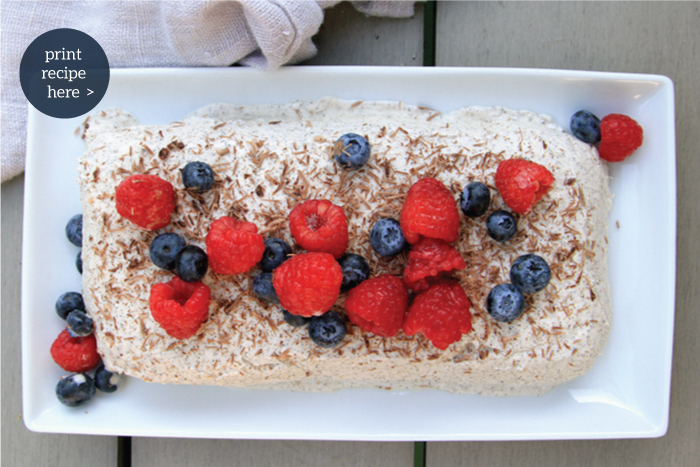 Easy Espresso Semifreddo
Serves 4-6

The term "semifreddo" means "half-cold" in Italian. Though not overly common, it's an easy-to-make dessert genre that deserves more attention. This particular semifreddo features a vanilla and espresso flavor, and is served as creamy slices of deliciousness! Refreshing on a warm summer day, this no-churn treat makes a very sweet ending to any meal.

Ingredients:
8 oz. (about 1 cup) very cold crème fraîche
1/4 cup powdered sugar
8 oz. very cold heavy cream
1 tablespoon espresso powder
1 teaspoon vanilla bean paste (or extract)
Shaved chocolate and fresh berries for garnishing


Directions:
1. Line a standardloaf pan with plastic wrap, leaving a generous overhang on all sides.

2. Using an electric mixer, or even a high-powered blender, whisk the crème fraiche until soft peaks are formed. Add the sugar, while continuing to whip. Add the cream, and beat until stiff peaks are formed.

3. Fold in the espresso powder, and mix until well combined.

4. Pour the mixture into the prepared pan. Fold the plastic wrap over the top of the pan. Freeze for at least for 4 hours.

5. Unwrap the semifreddo, and Invert the frozen semifreddo onto a cold serving plate. Top with fresh berries and shaved chocolate. To serve, cut the semifreddo into slices and place on pre-chilled dessert plates. Add a little extra garnish of berries and shaved chocolate if desired. Enjoy!