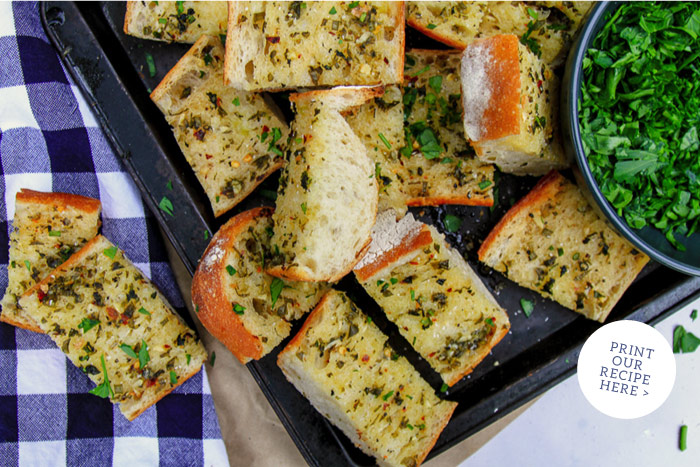 Baked Herb Bread
serves 6-8

A side of warm, herbed and buttered bread rounds out a crab boil into a fully satisfying meal. Slathered with buttery goodness, this bread delivers on flavor!

Ingredients:
1/2 cup butter (1 stick), softened to room temperature
2 garlic cloves, finely minced
1 teaspoon fresh lemon zest
2 teaspoons finely chopped chives
2 tablespoons finely chopped fresh basil
1/4 teaspoon Kosher salt
1/4 teaspoon freshly ground black pepper
1/4 teaspoon crushed red pepper flakes
1 large loaf of crusty bread


Directions:
1. Preheat the oven to 350° F.

2. Combine in a small bowl, the butter, garlic, lemon zest, chives, basil, salt, pepper, and crushed red pepper flakes. Stir together until evenly combined.

3. Slice the bread in half lengthwise and generously spread on the herbed butter to each half. Bake for 10-15 minutes, or until the bread has toasted into a golden brown. Slice into two inch pieces and serve immediately.
www.gchef.com • 122 south main, minot, ND 58701 • 1•877•266•CHEF • Copyright 2018 - Acorn Advisors